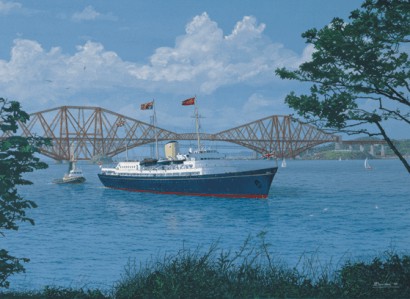 The order to build a Royal Yacht as replacement for the obsolete Victoria and Albert, was placed in February 1952 with John Brown & Co Ltd. The Clydebank yard won this contract largely because of its experience in building the prestigious Cunard Queens and Caronia. Launched in April 1953 by Her Majesty the Queen, Britannia was the most modern in a long line of Royal Yachts dating back to King Charles II's Mary, in 1660.
Britannia was designed as a dual function vessel - Royal Yacht in peacetime and hospital ship in times of hostility. Although built under post war austerity conditions, she provided a classical, well-balanced profile, with meticulous attention paid to detail. Features included an innovative funnel design, bulbous bow, stabilisers, superstructure tested in a wind tunnel, and the steel hull riveted then machined flush above the waterline to give an immaculately smooth finish. The Queen and Duke of Edinburgh took personal interest in the interior design, choosing for the Royal apartments relatively simple decor incorporating white painted walls, mahogany and brass. Exquisite furnishings and objets d'art provided appropriate embellishment, with many items retained from previous Royal vessels.
Throughout Britannia's 43-year active life, her appearance remained flawless, inside and out, despite having steamed well over a million miles. In service Britannia became a fitting symbol of Britain's proud maritime heritage, and in retirement, continues as a showcase for British shipbuilding at its best. In his painting, Gordon Bauwens portrays the elegance of the Royal Yacht as framed by the graceful arches of the Forth Bridge, itself an enduring monument to a previous century's engineering skills. This apt location is just a short distance from where Britannia is now open to visitors at Leith, Edinburgh's seaport.