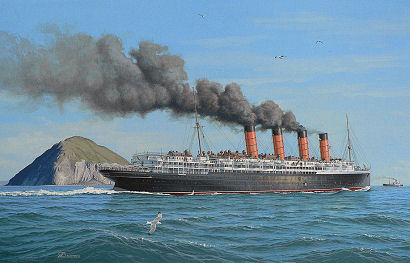 By Summer 1907, the newly-completed Cunard transatlantic liner, RMS Lusitania, was truly the wonder ship of her day. Larger than any previous passenger ship, she was also the epitome of luxury and power. Lusitania's maiden voyage to New York was in September 1907. On her next Atlantic crossing she comfortably took the prestigious Blue Riband from the German liner, Kaiser Wilhelm II.
The Clyde-built Lusitania and her Tyne-built sister, Mauretania, were set apart from all rival express liners by their revolutionary powerplants. Following comparitive operational results from Carmania and Caronia, Cunard's twin test vessels, the Company chose steam turbines for their planned two giant liners. Invented by Charles Parsons, this new British technology earned Lusitania then Mauretania the Blue Riband for the next twenty years. Their magnificent interiors and comfort levels in public areas also ensured the popularity of the two new Cunard greyhounds.
Lusitania left John Brown's Clydebank shipyard in June 1907, several months before her English counterpart. During speed trials on the River Clyde, the liner logged 25.6 knots, increasing to 26.45 knots during endurance runs to Lands End. Further short trial runs took place on the Clyde Estuary between Arran and Ailsa Craig before Lusitania entered service with Cunard.
This typically detailed gouache painting by Gordon Bauwens shows Lusitania passing Ailsa Craig - known locally as "Paddy's Milestone" - during trials in August 1907. We are proud to offer these high quality Giclee art prints using light-fast inks rated at 75+ years on museum-grade Hahnemuhle watercolour paper. This exclusive Limited Edition comprises only 150 main edition prints plus 1 Artist Proof - all individually signed and numbered by the artist.