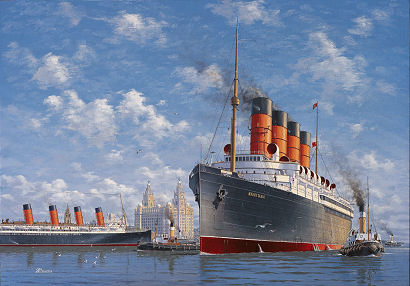 In 1903, Cunard ordered two almost-identical passenger liners of around 20,000 tons from John Brown & Co., Clydebank. The twin steamships, Caronia and Carmania, were built to compare the performance of conventional reciprocating engines with Charles Parson's revolutionary turbine power plants. From the test liners' convincing operational stats Cunard chose the turbine option for their planned two large express transatlantic liners, Lusitania and Mauretania. Thanks to this innovation, the new giants instantly became the fastest and most technologically-advanced liners of their age. Their superior speed earned them the prestigious Blue Riband and during their early transatlantic crossings, the trophy frequently passed between the two friendly rivals. Finally, Mauretania established herself as the slightly faster, allowing her to hold the Hayles Trophy for two decades. (In many commentators' eyes, what Lusitania relinquished in marginal speed was compensated by her more luxuriant interiors). As well as for their speed, the two liners also became favourites on account of their beautiful proportions - from every angle, they appeared just about perfect.
In this oil painting by Gordon Bauwens, commissioned by Cunard for Queen Mary 2, the elegant sisterships are shown during a rare meeting in their home port of Liverpool. The date is circa 1911, as evidenced by the liners' original lifeboat arrangements - increased after the Titanic disaster in 1912 - and by the gap seen to the right of the Royal Liver Building. Into this space Cunard later built their new Head Office to complete Liverpool's famous "Three Graces" waterfront triptych.
We are proud to offer this classic scene as museum-quality Giclee art prints, reproduced by permission of Cunard Line. They are faithfully printed using light-fast inks rated at 75+ years onto heavy Hahnemuhle German watercolour paper. This exclusive artist-signed Limited Edition comprises only 150 main edition prints plus 10 Artist Proofs.