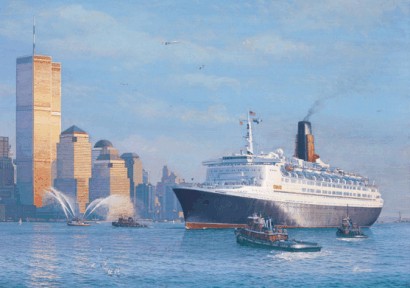 Few travel experiences can match the thrill of sailing into New York at the end of a transatlantic sea crossing. Cunard first used this port in 1847 and its elegant liners have been closely associated with the City ever since. Transatlantic legends bearing immortal names such as Lusitania, Mauretania, Aquitania, Caronia, Queen Mary and Queen Elizabeth, all graced this famous waterfront.
The most successful and well-travelled Cunarder of them all, Queen Elizabeth 2 (see Cunard's 'QE2 36th Birthday' document), kept this noble tradition alive by maintaining a regular Atlantic passenger sea crossing for almost 35 years of her remarkable 40-year career. Only after logging well over 5 million nautical miles (she ultimately sailed almost 6 million nautical miles - further than any ship in history), QE2 finally handed over the regular trans-Atlantic service to the new Queen Mary 2, before commencing her cruise-only role in 2004.
Representing over 350 hours work, Gordon Bauwens' atmospheric, and now highly historic pre-9/11 painting and prints, reflect his own passion for QE2 and his thrilling first-hand experience of arriving in New York aboard this magnificent liner. The famed Cunarder is shown enjoying a special fireboat welcome as she is met by Moran tugs. Manhattan's awesome skyscrapers and the distant Statue of Liberty shimmer in the late afternoon sun as overhead, Concorde banks to give her passengers a glimpse of the spectacular panorama below.
It is, of course, a scenario which can never be repeated, as all the main elements - Concorde, the World Trade Centre and finally QE2's arrivals - are now just memories.
To all those privileged enough to have experienced just such a grand entrance to New York, and those who perhaps only ever dreamed of doing so, these superb quality QE2 ~ Transatlantic Arrival Limited Edition prints encapsulate all the emotions and nostalgia of the 'ultimate travel experience'.
Produced using fade-resistant inks on heavy, acid-free art paper, each print is signed and numbered by the artist and comes with its Certificate of Authenticity.