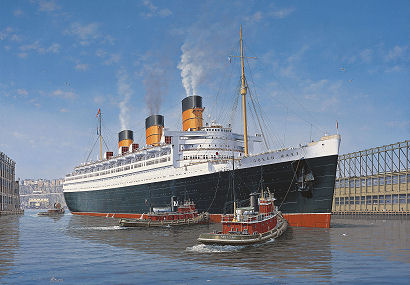 RMS Queen Mary entered service in a blaze of publicity on 27 May 1936. She was to be Britain's answer to her arch-rival, the French Line's stylish Normandie. The two giant, 1,000 foot-plus liners vied for the prestigious Blue Riband, with the Cunarder ultimately prevailing. In terms of economic success, Queen Mary also proved the more profitable, consistently attracting more passengers than her French counterpart. This was in spite of the Mary's reputation for severe rolling in the North Atlantic swell - a trait subsequently cured by fitting Denny Brown stabilisers.
Throughout World War 2, the Clyde-built Queen Mary and her consort, Queen Elizabeth, successfully served as high speed troop-carriers. Each was capable of transporting over 15,000 troops at speeds which allowed them to travel alone and outrun enemy U-boats. In this role, Winston Churchill credited the two giant liners with effectively shortening the conflict by one year.
Following an extensive post-war refit, Queen Mary returned to passenger service, mid-1947. Over the next 20 years, along with Queen Elizabeth, she faithfully served Cunard on the North Atlantic before retiring to Long Beach, California, in 1967. Here, Queen Mary continues to be admired as a magnificent testimony to the Golden Age of Sea Travel, a proud era which she exemplified.
This large oil painting by Gordon Bauwens shows Queen Mary docking in Manhattan at the end of a westbound transatlantic crossing, early 1950s. The painting is one of two commissioned for the Grand Lobby of Queen Mary 2. By kind permission of Cunard, we offer this image as Limited Edition artprints, faithfully reproduced and printed using light-fast inks rated at 75+ years onto heavy Hahnemuhle German watercolour paper. The Giclee Edition comprises only 150 main edition prints + 10 Artist Proofs - each signed and numbered by the artist.