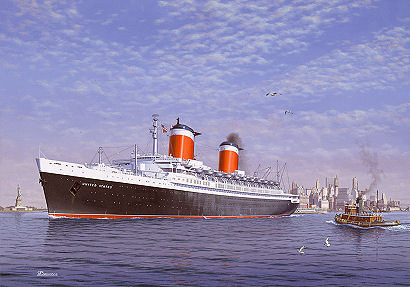 In the decade following WW2, transatlantic passenger traffic was again booming. One of the most remarkable new vessels of this era was the US flagship, SS United States. Designed by William Francis Gibbs to serve as passenger liner or troopship, her fame was due mainly to her incredibly high speed. Rated at over 240,000 SHP, United States was the fastest liner ever built. On her maiden voyage in 1952, she took the coveted Blue Riband from Cunard's Queen Mary. To this day, this honour remains hers with a top speed officially recorded at 38.32 knots. Some claim the ship was capable of much higher speeds, possibly even up to 45 knots.
For several years, the United States enjoyed the popularity expected of the world's fastest liner. But high speed comes at a price and with jet airliners enticing ever more passengers away from the ships, ironically, the United States' phenomenal speed effectively contributed to her premature demise. With increasing fuel costs she became, like many of her contemporaries, unprofitable. Despite government subsidy, it became evident the liner's career began just a little late in the day and, sadly, by 1969 her operational days were over. Since then she has been laid up, but currently awaits refurbishment in the Port of Philadelphia.*
Privately commissioned for a Hungarian client, Gordon Bauwens' oil painting features SS United States departing New York circa 1960 at the start of an eastbound Atlantic crossing. This highly detailed image is now faithfully reproduced as museum quality Giclee art prints for our customers. Printed using inks with a light-fast rating of 75+ years on heavy Hahnemuhle watercolour paper, this highly-collectable artist-signed Limited Edition comprises only 150 prints + 10 Artist Proofs.
*Important: GB Marine Art will donate 10 USD from each sale to the SS United States Conservancy for restoration of this magnificent liner. This means your purchase actively contributes towards returning this much-loved ship to her former glory.